Imprint
This website is operated by:
Brix Productions
Magdalena Brix
Inkustrasse 1-7/2/1.OG
3400 Klosterneuburg
ATU66651107
Bank details.
Oberbank
BIC: OBKLAT2L
IBAN: AT34 1515 1042 0106 2827
Copyright.
Copyright for all pages of this website – in particular for photos, texts, films, audio files – unless otherwise indicated, is held by Werner Brix.
Privacy Policy.
We collect and use your personal data exclusively within the framework of the provisions of Austrian data protection law. In the following, we inform you about the type, scope and purpose of the collection and use of personal data. You can access this information at any time on our website.
Data transmission and logging for internal system and statistical purposes.
For technical reasons, your internet browser automatically transmits data to our web server when you access our website. This includes the date and time of access, URL of the referring website, retrieved file, amount of data sent, browser type and version, operating system and your IP address. This data is not stored!
Data storage.
If you call up pages and files within this offer and are requested to enter data about yourself, this is subject to your free decision. If you make an entry in our guestbook, you must expect that your name and e-mail address with keywords of your contribution will be recorded in search engines and will be accessible worldwide even without specifically calling up our offer. We also ask for your understanding that we reserve the right to shorten your texts in order to avoid consequences under civil, administrative or criminal law, e.g. in the case of defamatory, sexist, racist and extremist texts, from which we distance ourselves in any case.
Cookies.
In order to expand the range of functions of our website and to make it more convenient for you to use, we use so-called "cookies". With the help of these "cookies", data can be stored on your computer when you call up our website. You have the option of preventing cookies from being stored on your computer by making the appropriate settings in your browser. However, this could restrict the range of functions offered by our website.
Right to information.
As a user of our website, you have the right to request information from us about the data stored about you or your pseudonym. At your request, the information can also be provided electronically.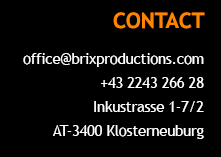 Copyright 2022 by Brix Productions